Pueblo Indian Textiles A Living Tradition By ( Kate Peck Kent )
$20.00
PUEBLO INDIAN TEXTILES A Living Tradition
by Kate Peck Kent
School of American Research Press, Santa Fe
Hardback with slipcover, first edition, 1983, 118 pages, exceptional illustrations
1 in stock
-
Description
PUEBLO INDIAN TEXTILES A Living Tradition
by Kate Peck Kent
School of American Research Press, Santa Fe
Hardback with slipcover, first edition, 1983, 118 pages, exceptional illustrations
"For the Pueblo Indians of New Mexico and Arizona, the tradition of weaving and decorating textiles reaches almost two thousand years into the past.  Yet because the Pueblos seldom make their traditional textiles for sale to visitors and collectors, their weaving and embroidery have long been overshadowed in popular attention by the better-known textiles of the Navajos.  Pueblo Indian Textiles: A Living Tradition now helps redress this imbalance by testifying to the beauty, technical skill, historical significance, and cultural authenticity of this centuries-old Pueblo tradition.
"Kate Peck Kent begins with the history of Pueblo textile arts, devoting special attention to changes and continuities since the Spanish conquest.  Next, she describes the sometimes unique technologies used by Pueblo craftspeople, many of which remain untouched by outside influence.  Finally, she examines the various kinds of Pueblo garments, tracing the origins of many of them back to prehistoric times.  Whenever possible, Kent explains the symbolic and cultural meaning that textiles and their designs have held for the Pueblo people."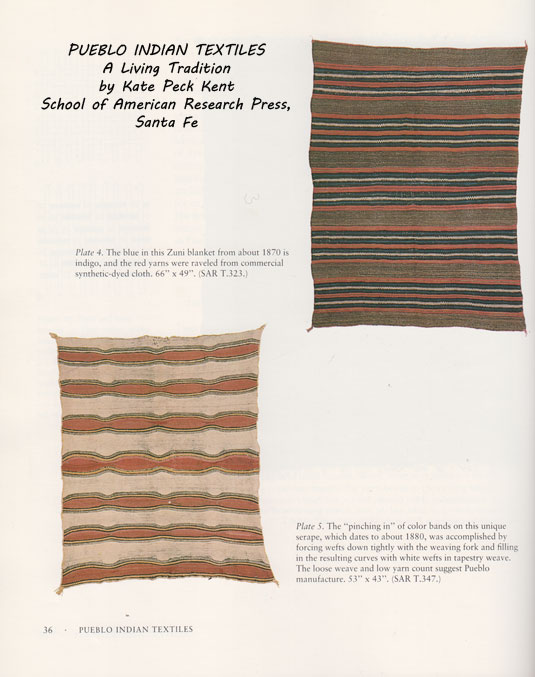 Only logged in customers who have purchased this product may leave a review.
Additional information